Ever since the internet became popular, people have become inclined towards digital solutions to solve their day-to-day chores. To keep users glued to the modern platforms, companies leave no stone unturned. And when we talk about the entertainment sector, things are the same. Undoubtedly, Netflix App has taken the world of entertainment beyond boundaries to give users an exceptional viewing experience.
Seeing the massive popularity of Netflix, various companies are planning to get a Netflix clone script developed. We are here with this blog post to take you through everything you need to know about Netflix. But before proceeding further, we would like you to have a glimpse of Netflix's popularity and let you learn why the market is flooded with the ideas of getting a similar platform developed.
In 2020, Netflix generated $24.99 billion.

In 2020, 80% of the most-watched original series belonged to Netflix.

In 2021, Netflix's mobile app for Android and iOS was downloaded 19 million times.

Netflix has 203.66 million subscribers across the globe.

Netflix produced 2,769 hours of original content in 2019.
Now that you have known how the video streaming platform is making the rounds, it's time for you to get the best Netflix clone script and claim success just the way Netflix did. Read on!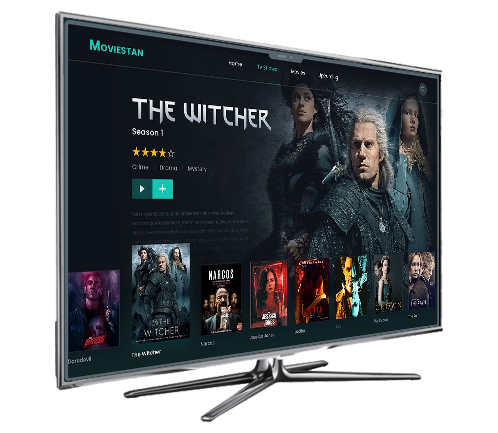 Launch Your Own Netflix Like App in Matters of Minutes
Get started with a complete white-label solution to launch your own Netflix-like application.
Stages Involved In App Development without Netflix Clone Script
Stop for a second to learn what it takes to develop an app that can perform just like Netflix does.
Stage 1: Planning
Ask a few questions to yourself before you take the next step.
Is the business model sufficient enough to make it successful?
Is the video content ready for streaming?
Note: The content comprises the core part of developing a Netflix clone app. If the quality doesn't meet what the users expect, the solution may stop bringing revenue.
Who is the target audience?
Note: It is only after knowing your target audience that you can curate your content.
The planning stage, predominantly, includes looking at every minute aspect that can affect the platform's performance later. Therefore, it becomes essential to pay attention to this stage to simplify the pending course of action.
Stage 2: Development
The practical work starts at this stage. To compete with giants like Netflix, you need to develop something that mimics it. This fact gives rise to the need for knowing what all features should be integrated to make the platform work in the desired manner.
We have listed down the must-have features of a Netflix clone.
Users must find it easy to register themselves on the platform by adding the basic details and getting started.
Users must be able to set up their profiles conveniently by adding various inputs and filters.
A payment gateway allows the viewers to pay securely for the content they wish to watch.
You cannot miss having the content search feature to let users search for their favorite show or movie.
To keep the users informed of an update or subscription expiry, push notifications work.
Allowing users to create a content list according to their personal choices for watching later gives them a sense of freedom.
The settings feature lets users customize the app as per their choice and adjust features like video quality, audio quality, subtitles, and more.
Your video-on-demand service should be able to support significant OS platforms if you wish to expand its reach.
Multiple Language Support
Reach a greater demographic by integrating multiple language support into your Netflix clone script.
Users can view your content on devices like laptops and television and do away with watching it on smaller screens like mobile phones.
Now that you have known the stages that lead to the development of a video streaming platform like Netflix, it's time to understand the factors that can make it highly successful.

Factors That Boost Netflix Like App's Growth
Netflix has garnered huge success and popularity within a short span of time. However, it cannot be said that every app that looks like it will be successful. Multiple factors determine the success rate of an app that performs like Netflix, and knowing them can turn things in your favour.
Originality of content

Level of content's engagement

Affordability of subscription price

Flexibility to create a schedule

Recommendations based on previously watched content
If you consider these factors seriously, trust us on this, you are planning to make the platform super successful. Developers providing video streaming app development services should pay attention to the factors while creating an app like Netflix. By doing so, they will be making it highly efficient in attracting new subscribers and retaining the existing ones.
Types Of Video Streaming Business Model Options
There are three video streaming business model options available that can prove to be highly beneficial for you.
Under the SVOD model, users have to take a membership plan- monthly or annually, to stream video content. The best part is that users get unlimited access to all the video content in HD quality.
Better known as the pay-per-view model, it works best for live sports and streaming concerts. One point worth noting here is that some platforms give restricted access to the purchased content, while others allow unlimited access.
AVOD model is the most common and is further classified into three categories:
Pre-Roll: Showing ads before the video starts

Mid-Roll: Showing ads in the middle of the video content

Post-Roll: Showing ads at the end of the video
Cost To Develop The App From Netflix Clone Script
Netflix is a perfect blend of portability and entertainment, which can reach millions of users quickly. With an out-of-the-world user interface, you can make your application a top priority. You can also make the viewing experience to the next level by integrating the richest features into your app. But did you ever think how much does it cost to develop the best Netflix clones script?
Well! To find an answer to it, you need to know the factors that determine it.
App design

Technology stack

App features

Development time

The rate charged by developers
Different countries offer different prices. Because of the difference in price range, a video streaming app can cost you from $30,000 to $200,000. However, it would help if you always acted wisely before paying any amount to a on-demand app development company
What Can You Do With Netflix Clone Script?
Developing a Netflix clone script isn't a cakewalk, but you can ensure its smooth development by doing a few things.
Choose The Desired Platform
Launching an app like Netflix requires you to begin with an MVP (minimum viable product), which can be altered at any time based on feedback. You can also choose a development company if you wish to cover a more extensive user base.
Hire An Efficient Team Of Developers
Things get easy when a team of professionals backs your idea. Begin looking for app development with Netflix clone script with a rich record and a team with the required domain expertise.
Pick The Right Technology
For building a perfect video streaming app, you also have to choose the right technology stack apart from selecting the right platform and a reliable team of developers.
Here is the list of top tools to build a custom app without Netflix Clone Script
Programming languages and frameworks (web app): C++, HTML5/CSS3, Java, JavaScript (Node.js, React, AngularJS, Vue.js), Python, Ruby (Ruby on Rails).
Programming languages (mobile app): Kotlin/Java (for Android); Swift, React native, and flutter (for iOS).
Front-end: Angular, Vue.js, React and RxJS, Falcor (a JavaScript library developed by Netflix) Databases: MySQL, PostgreSQL, Cassandra, Oracle.
Big Data Tools: Hadoop, Parquet, Pig, Presto, Spark, Kafka Analytics and insights: Google Mobile App Analytics, Flurry Analytics, Hive, MixPanel, Localytics
CDN services: Amazon CloudFront, Cloudflare, Fastly, Open Connect
Streaming protocols: RTMP, Adobe HTTP Dynamic Streaming, Apple HTTP Live Streaming, Microsoft Smooth Streaming, WebRTC,
Media formats: AVI, DMW, MOV, FLV, WMV, SWF, MKV, MP4, AVCHD
Don't miss another moment and start thinking about the type of content you wish to use. The decision is to choose between using videos from other distributors or creating original content. And it totally depends on the business goals.
You cannot do without promoting your app online. Numerous activities like allowing a sharing option will help you gain more visibility and make way for more downloads. Also, having social media login options gives freedom to users to log in without using the usual email or username option.
How To launch An App Like Netflix Using Clone Script?
Creating an app like Netflix is not a cakewalk. Nevertheless, following a robust app development strategy can help you develop a Netflix clone script.
Before you begin to develop an app like Netflix, you first need to decide the region where your application shall be available. Following that, determine how much money you will have to pay for acquiring a streaming license in that region. Settle all your license issues before you start with the development process.
At this stage, you have to decide where you will stream the content from, the database to be used, and where the data will be stored. You can make use of a cloud to host your server and store data. Additionally, you also need to decide the technology to be used for your app. Undoubtedly, the technology will depend on the devices for which you are developing using the readymade Netflix clone script, streaming speed, and the app's territory.
An app's design holds utmost importance and you must have noticed that video streaming apps have unique designs and are different from other apps. For that, you can always hire an app designer to integrate every possible feature and functionality to make your app stand apart from other apps in the market.
Types Of Video Content Viewers Can Watch On Your Netflix Clone App
Unlike traditional TV operators, video streaming platforms like the Netflix clone app script offer a plethora of video content for audiences to watch. They can pick their favourite video content by choosing among the large variety of content options available.
Most of the video streaming platforms release several series and attract millions of viewers around the world. A series consists of audiovisual work that has a unity of plot and belongs to different genres. Besides, its attractive picturization gives viewers more reasons to stay hooked to it.
Movies constitute to be the second most popular video content that is highly liked by the viewers. It is a cinematographic work that tells a story narrated on the screen by a group of factors, belonging to different genres.
Documentaries are the recordings of a person's real-life that stream on platforms like Netflix script to clone app. These are classified based on the material used in the video.
Viewers can view entertainment programs whenever and wherever they want. These programs play a boundless role in the development and implementation of streaming VODs of modern times.
Thematic channels offer specialized content on a specific topic or that aims at a specific part of the audience. Generally, these channels are used by users who have specific content requirements like information, entertainment, devotional, music, competitions, and more.
You can also position cartoons that exercise considerable power on VOD platforms like Netflix. The given video content is preferred by parents so that their children can watch them.
Value Proposition Of Netflix
Four elements constitute the value proposition of Netflix. You can leverage the potential of the video streaming platform by developing an app similar to Netflix.
The ease of accessibility that the platform offers is unmatchable and makes it highly attractive. Various languages, operating systems, platforms, and devices make it easy for users to find what they are looking for.
Content on Netflix clone app must be original and unique. You can never accomplish the goal of making your platform highly popular unless and until you stream record breaking originals and redefine entertainment.
Advertisements are the biggest income source for video streaming platforms like Netflix. However, users like to watch the video content uninterrupted. By developing Netflix clone script, you can introduce your viewers to uninterrupted streaming.
Latest technologies and trends with a strong AI backend drive recommendations and study user behavior. This is the reason why the platform has never come up with vague or out of context recommendations.
Why Choose Suffescom Solutions For Netflix Clone App?
Suffescom Solutions is the ultimate solution provider if you are looking for a company that can develop a Netflix clone app script and take your business to a level where it will be recognized globally. We have listed down the reasons why you should choose us.
We are an experienced team of designers and developers who possess the right skillset and experience to develop Netflix clone script. Our team knows how to deliver the solutions within the given time frame.
Your project idea will remain safe with us while we will work on it. NDA agreements ensure the safety of the client's project.
Constant support & maintenance
We believe in resolving bugs and technical glitches in time so that the app's performance does not get hampered at any cost. Therefore, we employ a team of support engineers who work to provide support and maintenance services to the clients.
Our team stays ahead by updating itself on the latest technologies that are being used in the market to develop apps similar to Netflix. We keep a closer look at the emerging trends so that we can develop solutions that allow our clients to gain more popularity and revenues.
We develop customized solutions to meet the unique needs of the clients and give them the liberty to have a solution they desire.
Final Thoughts:
The modern market will never come to a saturation point, and technology will keep progressing.

As per data from Nielsen, 8 out of the top 10 most popular original video content series among the US streaming providers are produced by Netflix.

The fact tells how popular Netflix is and why it is worth developing an app with our Netflix clone script

Our team of designers and developers at Suffescom Solutions brings expertise and skills to the table. If you are seriously into getting the best Netflix clone script developed, we are your go-to solution provider.

Talk to us and learn why you should hire us. We are just a click away. Act now.