Digitize Your Business With p2p crypto exchange marketplace
Businesses are heading towards digital transformation with the involvement of blockchain technology. Considering this, more and more companies are focusing on their expansions to meet the needs of customers and to thrive in this cut-throat competition of technological invention.
You might be aware of how things today are changing significantly due to blockchain technology. This also put a drastic impact on the transaction methods we use nowadays. Traditional transactions are dethroned by crypto-based exchanges to complete transactions to maintain privacy.
Looking at the trends, businesses need to cope with the pace at which technology is evolving. Most probably, they need to integrate their business with full-fledged P2P crypto exchange development. P2P cryptocurrency exchange platforms come with numerous benefits that are required to be explored yet.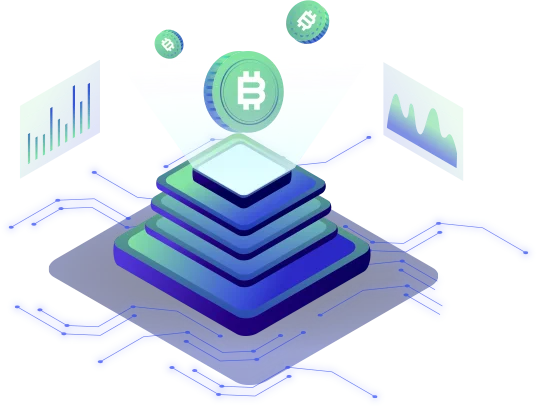 Launch Peer to Peer Exchange
Digitize Your Business With p2p crypto exchange marketplace
Let's understand a little about P2P crypto exchange before going in-depth on the topic.
What is a P2P crypto exchange?
The P2P crypto exchange is the future of the way we execute transactions now. It offers seamless transactions without any involvement of a third party. Privacy and user credentials are not disclosed in this distributed and P2P ecosystem. Both the parties involved in transactions agree on pre-defined terms to exchange cryptocurrency.
The platform is based on a distributed ledger technology, which means one cannot alter the data, personal information, or transaction history once stored in the system.
You might be wondering how?
The reason behind this is that the data once entered into the system gets verified on several blockchain nodes. Hence, marking changes to the data becomes impossible in this never-ending chain of nodes.
When a P2P crypto exchange is working on such unique working methods, no business can refrain from using this platform. As many B2B and B2C businesses are switching to blockchain-based crypto wallets to carry out transactions, so it becomes necessary to have a P2P setup for businesses.
Work process of P2P cryptocurrency exchange
Upon signing up, the user is required to verify the details. After verifying, asset trading is conducted with other verified traders without any hurdle. These P2P platforms are supported by robust technologies that make the perfect match between seller and buyer based on the requirements of both parties. Buyers and sellers can either build their own orders or can browse the existing orders to find a perfect match.
P2P crypto exchange platform provides seamless operations where sellers and buyers can communicate with each other for any discount or rise in the price. With this successful conversation, trading begins and funds get transferred within the fixed time frame. If interested, then users can also add their wallets and address to their accounts on the platform to make trading easier.
Talking about security, then P2P crypto platforms do not lag behind in this as well. It has the escrow option to transfer funds or assets securely. There is no second thought that the P2P exchange platform is easy to understand as compared to centralized exchange platforms.
Development of P2P crypto exchange platform
P2P defines peer-to-peer transactions without any involvement of middlemen. Being P2P, it makes each and every user an equal owner and contributor in the network. IN other words, a P2P crypto exchange is a decentralized exchange platform where users can trade cryptocurrencies sans any intermediary.
The team of Suffescom, who is an expert in Peer to Peer crypto exchange wallet development, is empowering startups to flourish in the cryptocurrency exchange industry. We create a smooth and seamless ecosystem where both buyers and sellers can take full benefit of the platform by trading in cryptocurrencies.
Till now, we assisted many ventures in creating their own cryptocurrency exchange platforms, just like Localbitcoins, Paxful, and Remitano. Let us tell you one more thing about ourselves, our p2p exchange script is plugged with a bitcoin escrow script and a separate escrow API that can be integrated with any existing exchanges.
Development process involved in P2P crypto exchange
The development process of Peer to peer crypto exchange has a few steps to follow. Any business can develop a robust platform with these simple steps; however, a skilled development firm is always recommended if you dont have much knowledge about p2p crypto.
Continue reading below…
Before entering into the development phase, the first and foremost step is to analyze the project, evaluate the requirements, and create a roadmap for P2P crypto exchange development after thorough research. It involves an in-depth understanding of your business and goals. Accordingly, a strategic plan is prepared and followed to build an exact application that suits clients' objectives. The team of developers also looks at the market statistics to make your platform stand out among all.
While designing the exchange platform, user satisfaction is of utmost priority. In order to create highly intuitive user interfaces, recommendations are- don't build a flashy UI design that won't be attractive to users. Add minimal colors or use light colors for emphasizing crucial elements of the platform. Following all these will mark an impact on the competitors. Consult with skilled UI/UX designers to add creativity to the design and expand your business.
After designing, another important aspect to cover is the development of smart contracts, legal policies, etc. Suffescom employs eminent developers with fully-fledged knowledge of the latest tech stacks. Being one of the renowned companies, we aim at developing featuristic P2P Cryptocurrency Exchanges. Our developers have years of experience in developing blockchain-based secure, robust, and customizable apps.
Further, the platform undergoes rigorous testing to remove any bugs or issues. If any error or glitch is found, it is removed immediately so as not to affect the user experience. Always remember that removing errors prior to launching the product increases the competitiveness attitude of the platform and ensures the success of the business. Hiring a crypto exchange development company can assist you in developing a flawless platform.
Once the crypto exchange platform is thoroughly tested, it is ready to be deployed in the live environment. An eminent team of developers always keeps an eye on the performance of the app or software to keep glitches away post-deployment.
Required technology stack
The development of any software depends upon the selection of the right set of tools and technology. Without a robust tech stack, the cryptocurrency exchange development platforms cannot work properly. In order to build Peer to Peer Crypto Exchange Software, some of the latest tech stacks involved are:
NodeJS
PHP
Laravel framework
MEAN
MERN stack
Premium features of P2P crypto exchange
Integrating cryptocurrency exchange with existing transaction systems will ease the process and businesses become recognizable in a very limited time frame. Whether it is about security or scalability, the p2p crypto exchange ecosystem will bring defined success in the nearby future.
Below are some of the exclusive features of the P2P crypto exchange:
The most prominent feature is KYC verification. Users' identities are verified; thus, preventing any deceitful activity like money laundering, or terrorist financing.
It provides an extra layer of security to users while trading. Through this smart contract-based feature, all the user activities can be tracked and cryptocurrencies are exchanged without any pitfall.
This feature enables you to monitor all the activities of customers from a single access point. You get complete control over the crypto exchange.
Dispute Management System
With the help of this system, the admin can seamlessly manage disputes that might arise during cryptocurrency transactions. The dispute management system is accountable for reducing the dispute rate.
As peer-to-peer cryptocurrency exchange is entitled on a global scale, therefore, multi-language support is provided to give users the freedom to communicate with other users in the preferred language.
This is also a promising feature of the cryptocurrency exchange system where users can trade in cryptocurrencies just in a few moments with the least latency.
Users are eligible to exchange one cryptocurrency with another in a jiffy.
There is also a feature where sellers can choose their preferred buyers or buyers can choose their preferred sellers.
The registration process of cryptocurrency exchange software is very simple that it allows users to trade within a few minutes.
SSL and two-factor authentication add an extra layer of security to the crypto-exchange platform. An OTP is required to log in to a crypto exchange account.
The crypto exchange platform also has a search option that allows users to instantly find relative orders without wasting time.
This feature of P2P crypto exchange enables users to trade in their desired cryptocurrency.
These mind-blowing features of the P2P crypto exchange platform will surely insist you to develop your own exchange platform as soon as possible.
Contact us now to discuss the project!
Advantages of P2P crypto exchange platform
Institutional-grade Security
P2P crypto platforms are protected with institutional-grade securities with secure vaulting, cryptographic hardware, and organizational governance to boost multi-layer security safeguarding assets.
These platforms provide unlimited transactions within a few seconds. The users can do trading in no downtime.
Self-explanatory Interface
End-users are supplied with a self-explanatory interface including information like the purpose of a button and its current state and to enable that feature.
The p2p crypto exchange models assist you in extending your trading platform with efficiency to handle the rising demands of the platform.
Suffescom holds the ability to offer ready-to-market featuristic crypto exchange software that satisfies your business needs.
Why choose us?
Choosing Suffescom as your peer-to-peer crypto exchange wallet development company can transform your business into a crypto platform with higher ROI. Our solutions offer instant transfer and numerous options over banks. We aim at providing a spontaneous, reliable digital transaction to end-users without any hassle.
Suffescom feels honored to be recognized as a company delivering avant-garde solutions and services. By incorporating our P2P crypto exchange solutions, the need for intermediaries can be removed and can cut unnecessary costs for your business.
We incorporate the latest technology stacks to develop digital solutions for your business that are highly efficient and effective.
At Suffescom, you will find top-notch developers with years of experience in blockchain technology. Our quality work can be seen by looking at our testimonials.
We adhere to providing bespoke solutions to take your business to the next level by fulfilling all your business goals.
Our team stays in touch with the client during post-deployment services to assist them in removing errors faced by the end-users. We are also available anytime for our clients.
The team of Suffescom dedicatedly takes up the projects to deliver them back by accomplishing all the goals of the business within the timeline.
Explore the concept of cryptocurrency exchange with us
Bring your business requirements to us, we will add value to your business by understanding all your needs and incorporating digital solutions that fit perfectly with them.
Consult with our advisory team by booking free consultation calls to take your project ahead.
We ensure to answer all your queries related to your business enhancement. Reach us now to walk together on your business journey.